Value added in our pricing:
No automated resolution quality scoring. We check each and every file for resolution, colour, brightness, sharpness, dust spots, aberrations, blur, and many other things automated resolution scoring can not factor.
We correct each and every file for issues, and if the quality is not sufficient, we will let you know rather than just printing it anyways.
Stop guessing at ratios and sizing. Ratios and old standard sizes are not compatible with most current technologies. We will double check all of that for you, and if anything is off, before we do any cropping, we will send you a proof. The only thing we need to know if you want something custom sized to your space, is one dimension, either height or width, and we'll do the rest for you and present you some options.
Never get another print that's too dark again. Because we check each and every single file, and apply an artistic as well as scientific approach, we will let you know if your file needs to be brightened, and do that for you, along with checking for any odd colour shifts that may occur if your monitor is not properly calibrated.
You can come to us for in person, tailored editing and customization help. We can do layouts, editing, design, and even add text for you. You can also see what your print will look like on our colour calibrated monitors before printing.
The bottom line is we help you reach an elite level when translating your files into prints, regardless of your ability level.
Canvas Printing (Giclée)
*custom sizes are available by request to kevin@kacanvas.ca
All canvas is ready to hang on either a .75" depth, or 1.5" depth. 2" available by request.
**Note, pricing is to print your photos or files. For our art gallery pricing,
see art pricing here.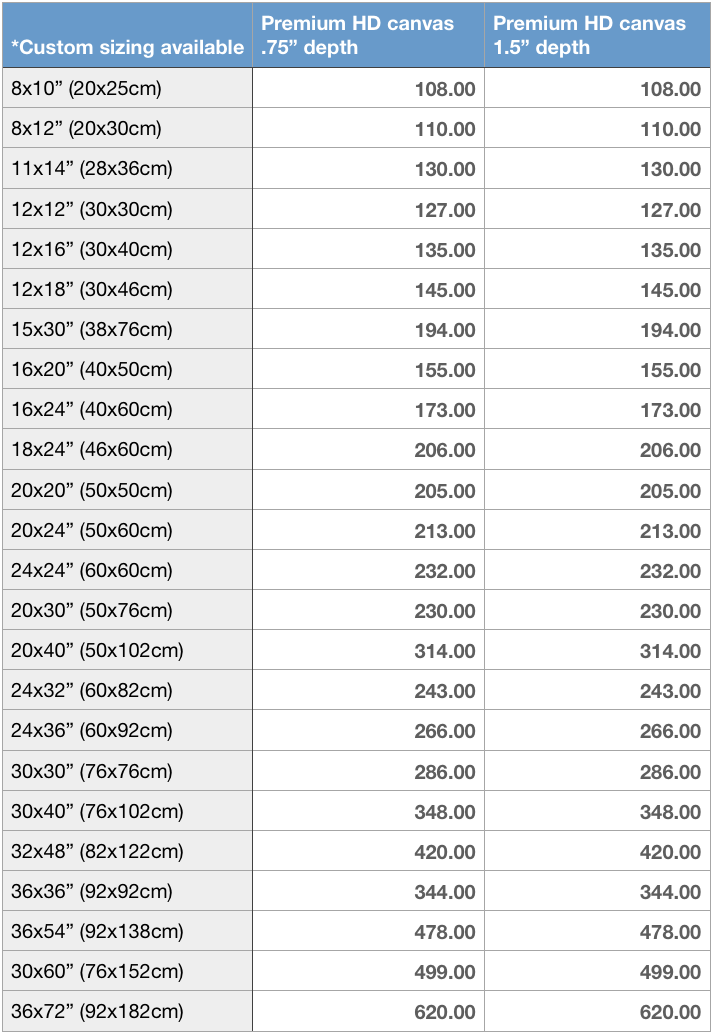 Photo and fine art printing
*pricing is based per square foot. To arrive at custom size pricing that is not on the list below:
1. length x width of print in inches = square inches
2. square inches / 144 for square footage
3. square footage, (round up to nearest whole number), x price for total
Example: 24x36" print =864 sq" | 864 / 144 = 6 square feet x $20 per square foot = $120
Need help? Simply
upload your files
and we'll take care of you.
**Note, pricing is to print your photos or files. For our art gallery pricing,
see art pricing here.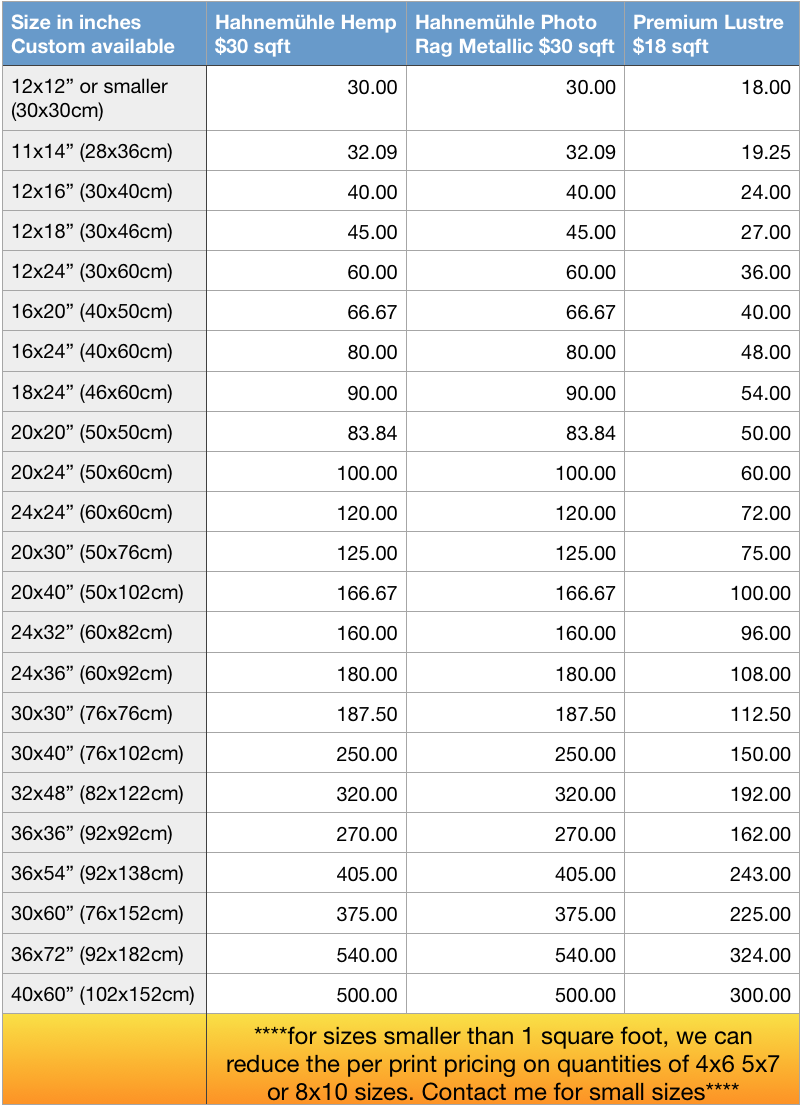 Custom Picture Framing
We offer a large selection of custom framing options. Each client of ours is unique, and selects the design and options that are best for their artwork. Because of the custom nature of what we do, it is best to come in with your artwork in person, and we can work with you to find options within your budget. We are quality, design, and service focused.
**Please note, that when you call around to different custom framing shops, you will get pricing based on many variables, so it is very difficult to be able to price compare accurately. Even if you ask for "just a simple black frame", there are a large number of finishes, widths, depths, textures, and you may get pricing on a range of different conservation levels of matting, and glass, and almost all calls while shopping around are sure to get a range of variables which makes pricing inconsistent. We will consider price matching if you bring in a competing quote.

We offer price breaks and commercial pricing for large projects.
Visit us now